Same Day Sick Visits
It's one of the worst feelings when your child is sick; however, no matter if you're dealing with a fever or an earache, it may be time to schedule a sick child visit. When you call our office we'll listen to your issues and let you know whether your child should be seen by one of our pediatricians. We offer same day appointments in our Katy, TX office if your child needs to see a pediatrician that day.
If your child is ill, our office will do it's best to ensure that your child sees one of our providers. Appointments for same-day sick visits can be scheduled as soon as our office opens. Unlike a well child visit, the main purpose of a sick child visit is to address and treat a specific problem such as a sore throat, fever, or vomiting.
Here are some instances where you should call your pediatrician immediately: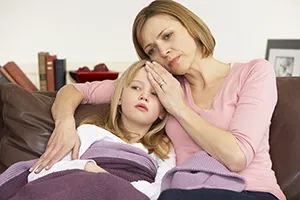 Your child is under 2 months old and has a fever higher than 100.4°F
Your child is over 2 months old and has a fever that lasts longer than two days and causes malaise
Older children that have a fever of 104°F or higher
Children complaining of localized abdominal pain
If you are concerned about your child's health
At our pediatric office, we are committed to providing your child with quick, quality care when they need it most. We even offer both sick and well waiting rooms, to contain infectious illnesses so germs aren't spread between patients.
If this is truly a medical emergency (e.g. seizures, shock) or your child was involved in a traumatic accident (e.g. poisoning or vehicle accident), take your child to the nearest emergency room or call 911.
If your child is sick and you think it's time to schedule a sick child visit, call our Katy, TX pediatric office right away at (281) 492-0774.